BNSF Honors Lincoln, Neb., Employee Mike Warrington as Telecommunications Safety Employee of the Year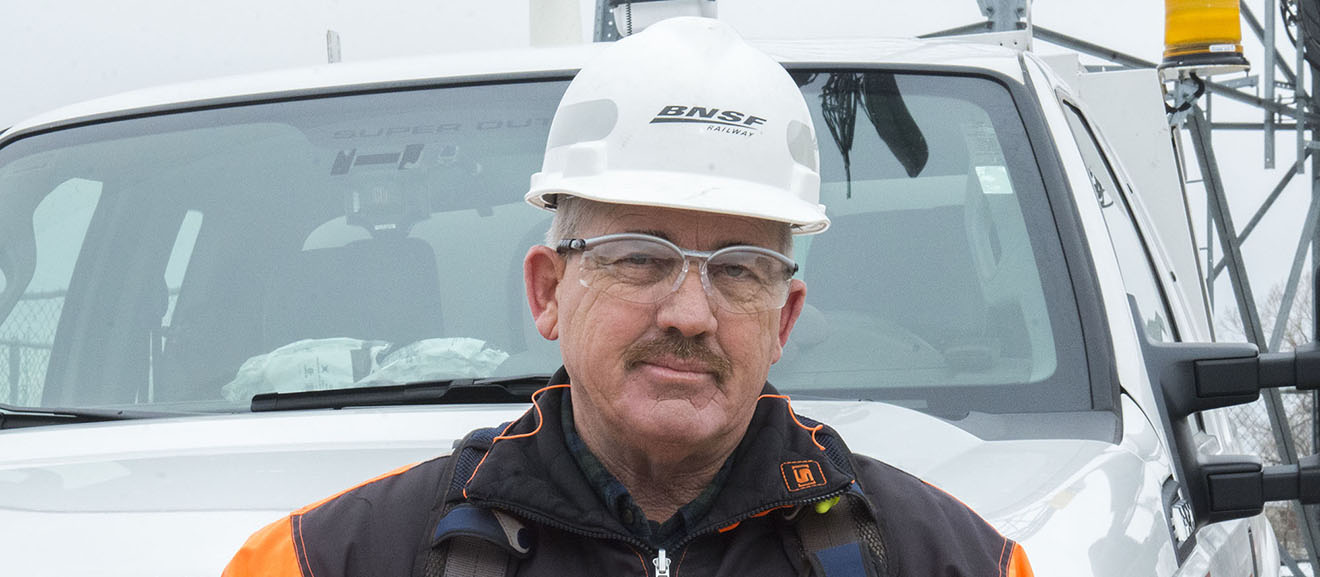 FORT WORTH, TEXAS – BNSF Railway Company (BNSF) has named Mike Warrington, communications and signal foreman, Telecommunications Safety Employee of the Year. Warrington was recognized at BNSF's annual Employees of the Year ceremony held last night in Fort Worth, Texas.
"The Safety Employees of the Year are particularly important to me," said Carl Ice, BNSF president and chief executive officer. "Nothing is more important than safety at BNSF, and I commend team members like Mike Warrington for their efforts to keep our company operating as safely as possible."
"I may be the foreman, but I need the ideas and thoughts of my colleagues so they own the process as well."
Warrington, who has been with BNSF for nearly 37 years, leads a crew of telecommunications maintainers in Lincoln, Neb., and is known for his focus on safety. Safety is not just built into Warrington's routine; it is built into every aspect of every task the crew performs under his leadership – from putting on harnesses to taking a single step up a tower for inspection.
"Before you start climbing a tower, you have to think through what you're about to do and communicate it to others, including knowing what the safety plan is and having a solution ready for when things change," Warrington said, who is known for his job safety briefing skills. "Our job safety briefings are really involved, so I try to break them down so they're bite-sized and not overwhelming. I may be the foreman, but I need the ideas and thoughts of my colleagues so they own the process as well."
The BNSF Employees of the Year event recognizes employees who embody the company's vision and values. Their achievements positively impact BNSF customers, fellow employees, owners and the communities served by BNSF. In addition, BNSF honors five Safety Employees of the Year, representing Telecommunications, Intermodal Business Unit Operations and each of its major operations departments. These honorees are recognized for their efforts to improve safety within the industry and their communities.
In 2014, BNSF continued to reinforce its commitment to safety with a best-ever year in employee safety. BNSF's continued safety improvements – assisted by the efforts of the Safety Employees of the Year – move it closer to achieving the company's vision of an injury- and incident-free workplace.
For a complete list of honorees, along with photos and a video of the Safety Employees of the Year, please visit bnsf.com/news-media/.
About BNSF
BNSF Railway is one of North America's leading freight transportation companies operating on 32,500 route miles of track in 28 states, and also operates in three Canadian provinces. BNSF is one of the top transporters of consumer goods, grain and agricultural products, low-sulfur coal, and industrial goods such as petroleum, chemicals, housing materials, food and beverages. BNSF's shipments help feed, clothe, supply, and power American homes and businesses every day. BNSF and its employees have developed one of the most technologically advanced, and efficient railroads in the industry. We work continuously to improve the value of the safety, service, energy, and environmental benefits we provide to our customers and the communities we serve. You can learn more about BNSF at www.BNSF.com.